Berkeley Juneteenth Festival
501-C-3 non profit status organization called The "Berkeley Juneteenth Festival" and will now be able to raise funds with the idea of putting on a beautiful music and art festival as it was for the first 22 years in Berkeley when my sister Barbara Taylor and i were the first Artistic DWonderful News: The Bay Area Jazz Society is now the proud owner of a Federal Directors.
The flyer below was the last year we ran the festival.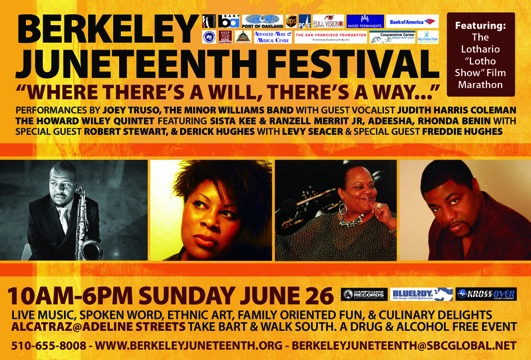 BERKELEY JUNETEENTH FESTIVAL
MISSION STATEMENT
The Juneteenth is now a national holiday. Our festivals mission is to bring all Americans together to celebrate our common bond of freedom through the recognition, observance, education and historic preservation of Juneteenth in America by acknowledging and celebrating one of the most important occasions in American History, the signing of the Emancipation Proclamation which ended slavery in America as we knew it.
The Berkeley Juneteenth festival was created to remember & celebrate the heritage of African- Americans and their freedom in our quest of perfecting unity in our community as citizens concerned with human dignity & community redevelopment to implement programs that address the needs of all ethnic communities.
VISION
The major intent of this festival is to examine the cultural heritage of enslaved Africans and their descendants through art, education, and research. The festival was founded with an emphasis on the artistic contributions African Americans have made to American Society historically and currently. Our festival is for the enjoyment of everyone living In Berkeley and the surrounding communities and features live musical entertainment, arts and crafts, comedy and ethnic foods of all types.
We will have entertainment and educational events for children, a yearly local film & video festival featuring Film makers young and older at the Berkeley Black Rep Theater. Our Main stage will include Jazz, Blues, R&B, Gospel, Afro Cuban, etc. We also will have a Youth Stage.
We also plan to connect with our community with projects for children in the Bay Area School Districts and with our community colleges by bringing established artists to speak and perform. Lastly our plan is to sponsor events throughout the Bay Area featuring musicians and other creative artists performing their original works.
Executive Director / President: Paul E. Smith:
3204 Tremont st Berkeley Ca 94703: 2 Berkeley Ca, 94703
Treasurer: Jim Collins: 620 glen drive San Leandro Ca 94577